Industrial News
Zoomlion Lauches 1st Probability Screen - 4GLS2530
【Time:2015-3-24】 【Come:本站】 Hits:
Zoomlion Lauches 1st Probability Screen - 4GLS2530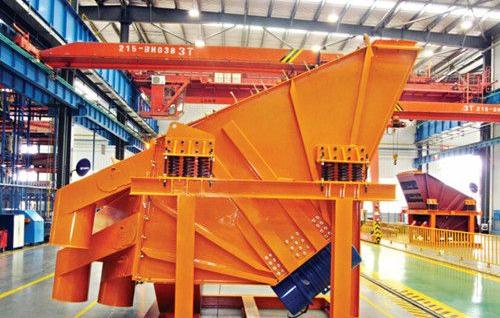 On March 3rd, ZOOMLION section a probability screen 4GLS2530 station manufacturing division success off the assembly line in the assembly shop concrete machinery company concrete, this is ZOOMLION in the production process of probability screen in the innovative development of a new generation of products, but also the company probability screen ability of R & D and production of another innovation.
Probability screen is in ballast along the screen surface relative sieving equipment design principle of sliding,can greatly improve the screening rate, is the mechanism of sand and dry mixed one of the key components of the core station, plays a role in the productivity of the equipment and product quality. ZOOMLION 4GLS2530probability sieve belongs to the rectangular sieve, sieve surface effective area larger, stronger productioncapacity. Compared with the type of probability screen with a screen on the market larger, wider work surface,makes the screening material longer retention time on the screen surface, sieve through better performance.
The screening portion of the 4GLS2530 probability screen has 4 levels, the user can choose the screeningsurface according to different levels of need, with selection diversity. The driving part 4GLS2530 probabilityscreen is adjustable, the user can according to the company the construction site needs, adjust the magnitude and amplitude direction. The amplitude of partial 4GLS2530 probability screen, use the same design structure is supported by three springs, has the characteristics of higher reliability, longer life.
Trial production of ZOOMLION 4GLS2530 probability screen success, marks a breakthrough ZOOMLION made in material screening technology, also let the customers have more choices in probability screen products